Orange County Nursing Home Bed Sore Lawyers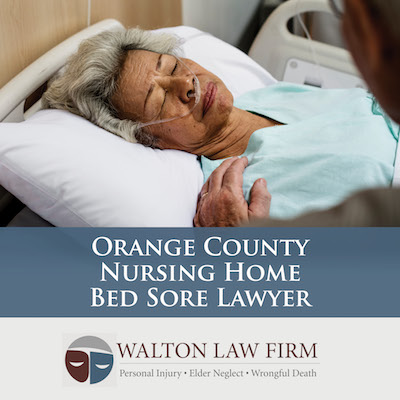 Orange County is home to roughly 500 assisted living facilities and nursing homes, which house mostly senior citizens who are likely in some need of assistance. If these folks have limited mobility at all, they may be susceptible to bed sores. In the case of limited mobility, these facilities have a responsibility to aid their residents in moving throughout the day, in order to prevent bed sores from forming. Failure to do so may be considered negligence on behalf of the home and expose the nursing home to legal liability from an Orange County nursing home bed sore attorney.
Park Anaheim Health Care in Orange County received an A Citation in 2018 for Patient Care, where the injuries to the patient were on the basis of a fall yet involved bed sores that indicated patient care had been lacking at this facility well before the preventable fall. The resident in this case was dependent on staff for bed mobility, a fact that was noted in 2017, well before the bed sores had formed.
Bed sores (or pressure sores) are best characterized as an injury to the skin and often the underlying tissue. Bed sores result from prolonged pressure to the skin, making those who are bed bound (or have otherwise limited mobility) most at risk. Sores are preventable if proper care is taken by nursing home staff as well as the home itself, i.e., ensuring that the patient is being moved often throughout the day. Park Anaheim Health Care was clearly aware of the resident's immobility and had noted that the resident needed assistance in order to move around on his bed and throughout the day. Bed sores forming in this case indicate that the staff or home were negligent in some way and failed to take some of the proper steps and techniques to prevent this resident from developing bed sores. Some examples of these techniques that should be used, are as follows:
Encouraging resident to lie at a 30-degree angle (which reduces pressure on susceptible areas), and providing assistance when needed
Checking up on the resident throughout the day
Having the resident use pillows or foam padding when seated in order to relieve pressure
Ensuring the resident has dry bedding and clothing
Paying special attention to residents who are at a higher risk of forming the lesions (those with a history of immobility)
Repositioning or relocating residents
In larger areas such as Orange County, the demand for nursing home staff is high, meaning these facilities are often understaffed, and staff is overworked. This can result in less attention being paid to individual residents, which could lead to less movement throughout the day. This would render residents of these homes more susceptible to bed sores. Bed sore attorneys in Orange County have observed many bed sore cases that could have been prevented if the patient had been turned and moved more frequently throughout the day.
Bed Sores range in severity, and can begin as a simple bruise, yet turn into a life-threatening infection. The areas that are most susceptible to bed sores are the parts of the body that sustain long periods of pressure when resting. These areas include but are not limited to:
Heels
Ankles
Tailbone
Shoulders
Hips
Bedsores are particularly difficult to treat as they can develop and advance quickly through the various stages. The stages of Bedsores are as follows:
Stage One: Sores are still closed wounds. Skin is red and may be bruised. The patient may feel pain but there are typically no breaks or tears in the skin. The skin may lose color when pressing a finger to it. Skin may be warm to the touch, and often feel softer or firmer around the affected area.
Stage Two: The skin around the sores may be broken, worn away, or progressed to an ulcer that is very painful. The sore deepens into the skin and can look like any combination of a scrape, blister, or crater. It is even possible at this stage for the skin to die or be damaged beyond repair.
Stage Three: As the bed sore progresses it may penetrate into the soft tissue underneath the top layer of skin, forming a small crater.
Stage Four: This is the most severe type of bedsore, with a skin ulcer that is very deep, and often reaching into muscle and bone, which can lead to irreversible harm. The area is much more susceptible to infection at this stage and is already likely infected. This can cause other issues in the body.
This stage is often at which point an attorney would get involved if there was negligence on behalf of the home.
Stage 3 or 4 bed sores, due to the likelihood of infection, can and often do require surgery. These infected sores and the surgery can pose further complications for the resident which can lead to a reduced quality of life and in some cases even death. It is a tragic and serious outcome of a situation that is usually entirely preventable, and an outcome that our Orange County bed sore attorneys see too often.
Call or Contact Southern California Nursing Home Law Group Today
Have you suspected that a loved one has been the victim of a nursing home bedsore complication in Orange County? If so, call the office or contact an attorney today at the Southern California Nursing Home Law Group to schedule a free case evaluation with one of our experienced Orange County bed sore lawyers.