Orange County Nursing Home Fall Injury Lawyers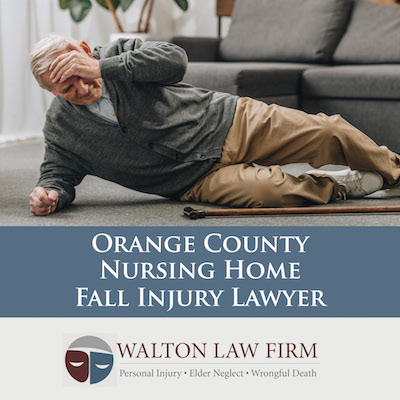 Senior citizens and dependent adults who are in need of assistance, due to frailty and immobility, often end up in nursing homes or assisted living facilities. This frailty is generally a result of an accumulation of medical problems over time. These medical issues often render elderly folks more susceptible to falls and other similar injuries, which is why nursing homes and assisted living facilities should be cognizant of each individual resident's risk, and take the necessary steps needed to prevent a fall or similar injury.
A fall injury in a nursing facility can be minor, yet often, fall accident lawyers see cases that result in a bone fracture or head injury that reduces the resident's quality of life by impacting their ability to function as they did previous to the fall. Nursing homes and assisted living facilities should be performing fall-risk assessments upon intake of their resident's, with nursing assistants and aids following a plan in order to reduce the risk of falls. A nursing home in Orange County, California, received a Class A violation by the California Department of Public Health in 2018 for failing to properly follow their own fall risk plan, leading to a fall that seriously injured a resident. Highlights of how this situation occurred, are as follows:
The resident was assessed as being high risk for falls during their intake
The resident's POP reducing risk report showed that the resident was identified as needing two-person assistance for repositioning and transfers
A physician's order from 2016 read that the patient needed a low air loss mattress.
A review of the care plan was done with no indication that the resident didn't have a low air loss mattress, or that he was often being assisted by only one person for transfers
The day of the incident, the resident fell onto the floor off of a low air loss mattress (that was later found to be defective, with the home aware of this defect since 2015) as 1 CNA was providing incontinence care to the resident by himself
The resident sustained a left femur fracture, left intracranial hemorrhage, and skin tears to both feet
This incident highlights the importance of nursing homes and assisted living facilities formulating and then following through with a risk assessment plan for their residents. The failure to follow through with a plan at this Orange County nursing home nearly cost this resident his life and contributed to injuries that will affect him likely for the rest of his life. These cases are not uncommon in the world of nursing home accident and injury law, and fall injury attorneys see these mistakes being made time and time again, leading to preventable falls and injuries. There are a series of reasons why an elderly person might sustain an injury from a slip and fall in a nursing home, but listed here are a few examples of dangerous conditions that could lead to one:
Understaffing or poor staff training
Fall-risk protocols not being followed through
Crowded walkways
Wet/slippery floors
Insufficient lighting
Lack of railing/insufficient railings
Call or Contact Southern California Nursing Home Law Group Today
Have you suspected that a loved one has been the victim of a nursing home fall injury in the Orange County area? If so, call the office or contact an attorney today at the Southern California Nursing Home Law Group to schedule a free case evaluation with one of our experienced Orange County nursing home fall injury attorneys.