San Diego Nursing Home Bed Sore Lawyer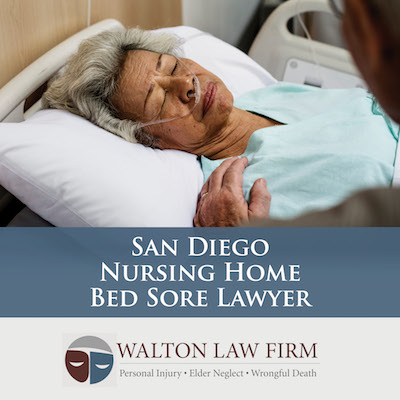 San Diego County is home to roughly 600 assisted living facilities, and many more nursing homes. These facilities house elderly folks who often struggle with being fully mobile or capable of performing everyday tasks, which is why they are in the home in the first place. Limited mobility causes a range of issues, yet one prevalent issue that attorneys see time and time again is the instance of bed sores.
Bed sores (or pressure sores) develop when there is prolonged pressure on the skin on a certain area of the body. They are described as an injury to the skin or its underlying tissue, that can range from a mild bruise like appearance to a life-threatening condition. These sores occur commonly among elderly people in nursing homes or assisted living facilities due to prolonged periods of time laying down in bed or sitting in a chair, without active movement or shifting of body weight.
San Diego County is a concentrated area, with a high demand for nursing home and assisted living staff, which means many of its facilities are understaffed and overworked, leading to less individual attention on each resident. This lack of attention could mean that movement of residents is not encouraged at the rate it should be, and many of these patients develop bed sores as a result. One such skilled nursing facility in San Diego received an A Citation by the California Department of Public Health by failing to prevent and then subsequently treat a pressure sore on a patient, that ultimately led to his demise. This facility was likely sued by a San Diego bed sore attorney due to the damages caused to the patient and their family.
Boulder Creek Post-Acute is a facility in Poway, San Diego, that took in a resident with knowledge of his susceptibility to bed sores and formulated a care plan to ensure that certain techniques were being used to minimize his risk of developing a pressure ulcer. Some common techniques that are used, are outlined below:
Integrating foam padding and pillows when seated or laying down
Repositioning the resident in bed by turning them frequently
Repositioning the resident in a chair frequently or relocating them to another area
Ensuring that the resident's clothing or bedding is dry
Checking in on residents frequently throughout the day
Paying special attention to patients who are noted as particularly immobile and therefore at a higher risk of developing pressure sores
Encouraging residents (and assisting them when needed) to lie at a 30-degree angle
The failure to perform some of these tasks, or to perform them in a frequent enough manner, caused the patient to develop a pressure sore on his mid back. The development of this sore is less of an issue in this case, the negligence on behalf of the home is really outlined when it comes to the treatment of the sore and its progression. The homes staff was aware of the sore and noted its progression along with the infection that had developed as a result of the sore, yet a physician was not notified of the severity until the sore had reached Stage 3. Once the physician was notified, there was then no evidence of follow up to treat the bed sore with a proper wound care specialist. This bed sore quickly advanced to Stage 4, with a severe infection, at this point he was transferred to an acute care facility for treatment, yet the patient unfortunately died as a result of his injury just three days later.
This situation is just one example of a situation that is not uncommon to attorneys in San Diego who specialize in nursing home bed sore law, it is an unfortunate consequence of negligent nursing homes and assisted living facilities.
Call or Contact Southern California Nursing Home Law Group Today
Have you suspected that a loved one has been the victim of a nursing home bedsore complications in San Diego? If so, call the office or contact an elder neglect attorney today at the Southern California Nursing Home Law Group to schedule a free case evaluation with one of our experienced San Diego bed sore lawyers.