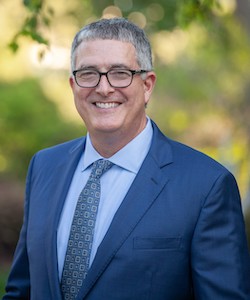 Wil Rumble
Wil Rumble has dedicated his nearly 30-year legal career to ensuring justice for his clients. He is well-known for his indomitable passion, relentless work ethic, authentic care for his clients, and fearlessness when advocating for those clients, and recognized as a trial "Warhorse" by his peers in 2023.
Wil fell in love with the practice of law and in his first three years of practice took over 60 cases to trial. Wil then transitioned into a felony criminal defense practice where from 1999 through 2022, he tried all kinds of cases, including twenty murder cases, two of which were capital cases. Wil served as the supervising attorney at the San Diego County Multiple Conflicts Office, from its inception in 2005 to 2016, where he specialized in homicide defense. All told, Wil has tried more than 130 cases, settled thousands more, and is the author of eleven writ petitions filed in the Fourth District Court of Appeal.
Wil recently retired from criminal law practice and has now dedicated himself to the cause of justice for individuals or families injured or killed due to the negligence, reckless, or intentional conduct of others. A friend of Randy Walton's for over 30 years, Wil has joined Walton Law Firm as of counsel and will be bringing his formidable trial skills to the civil courts.
Education
J.D., University of San Francisco School of Law, 1994
Law Review
B.A., University of California, San Diego, 1986
Magna Cum Laude
Jurisdictions Admitted to Practice State of California, 1994
State of Texas, 1997
U.S. District Court, Southern District of California, 2004

Law Practice Awards
Warhorse, San Diego Criminal Defense Bar Association (2023)
William R. Fletcher "Fletch" Award, North County Bar Association (2019)
Selected Training Presentations & Publication
Anatomy of an Acquittal, San Diego County Public Defender MCLE Training, January 24, 2019
Voir Dire: Some Lessons Learned, Riverside County Public Defender MCLE Training, January 26, 2012
Developing Relationships and Obtaining Information from Clients, Co-Presenter, California Attorneys for Criminal Justice/California Public Defender Association Capital Case Defense Seminar, February 15, 2004
David Watkins: A Case for Life, Co-Presenter, San Diego County Public Defender MCLE Training, December 17, 2003
Comment: The FCC's Reliance on Market Incentives to Provide Diverse Viewpoints on Issues of Public Importance Violates the First Amendment Right to Receive Critical Information, 28 U.S.F. L. Rev. 793 (1994)