San Bernardino Nursing Home Bed Sore Lawyer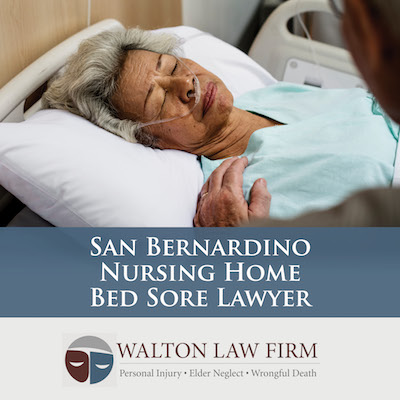 Bed sores and pressure ulcers and the complications that arise from these sores are a common injury that San Bernardino nursing home bed sore lawyers see when handling nursing home or assisted living negligence and abuse cases. Bed sores are usually the result of prolonged pressure on the skin, resulting in injury to the surface of the skin as well as the underlying tissue. They accumulate typically on areas that are subject to prolonged pressure due to laying or sitting for extended periods of time, such as the sacrum, coccyx, and heels. This makes patients who reside in San Bernardino nursing homes and assisted living facilities particularly vulnerable to them, as many of these folks have limited mobility.
Other common reasons that bed sores can form are when individuals are bedridden, unable to sense pain (which often occurs as bed sores progress to later stages due to nerve damage), unconscious, or generally immobile. Individuals that have diabetes mellites, circulation issues, or are malnutrition also are at a high risk of developing bed sores. Some common areas where bed sores form are:
Coccyx (tailbone)
Hips
Buttocks
Heels of the feet
Shoulders and shoulder blades
Back of the head
Backs of the legs
Sides and backs of the knees
Due to the likelihood of bed sores forming when residents aren't fully mobile, San Bernardino nursing homes and assisted living facilities have several techniques that should be used to prevent bed sores and decubitus ulcers from forming in the first place. There are many different techniques used but the general gist is promoting movement of the residents when possible or turning residents as frequently as possible if they are bed bound. The incorporation of pillows and other padding are also used to relieve pressure when sitting or laying down. Caregivers also typically check for dry bedding and clothing to prevent sores from forming. These techniques along with general care and frequent attention paid to residents does a lot to reduce the risk of lesions forming. Without integrating these techniques frequently enough, facilities run the risk of residents forming bed sores that range from bruising, to potentially life threatening. These more serious cases are the ones that attorneys typically see, and the frequency of these occurrences is much higher than one would hope.
The severity of a bed sore injury is characterized mostly by the stage that the bed sore is at. Bed sores are characterized through four different stages, beginning with the mildest and ending with the most severe. The stages are described as follows:
Stage I: Bed sores are developed but mostly as a closed wound. The skin appears red or purple with the appearance of bruising. The patient may feel pain, yet there are typically no breaks or tears in the skin quite yet. The skin tends to lose color when pressure is applied to it.
Stage II: The skin has broken open, become worn away, or formed an ulcer that is causing the patient pain. The sore has deepened into the skin and has the appearance of a scrape, blister, or crater. Though unlikely, it is possible at this stage for the skin to die or be damaged beyond repair.
Stage III: The sore continues to progress and extends into the soft tissue underneath the top layer of epidermis (skin), forming the appearance of a small crater.
Stage IV: The most severe type of bedsore, creating a skin wound or ulcer that is very deep (often reaching into muscle and bone) causing irreversible harm. The area has the potential to now be infected and cause further damage to the body. The patient may not feel any pain because the tissue in an area has been damaged so badly. This stage is often at which point San Bernardino nursing home bed sore attorneys get involved if there was negligence on behalf of the home.
A stage four ulcer (or even sometimes stage three), due to the likelihood of infection, can require surgery. These later stages are often when sever damage is caused and neglect attorneys become involved. These infected sores and the surgery needed will pose further complications for the patient which can ultimately lead to a reduced quality of life and in some cases even death. It is a tragic and serious outcome of a situation that may have been entirely preventable.
Call or Contact Southern California Nursing Home Law Group Today
Have you suspected that a loved one has been the victim of a nursing home bedsore complication in San Bernardino? If so, call the office or contact us today at the Southern California Nursing Home Law Group to schedule a free case evaluation with one of our experienced San Bernardino nursing home bed sore lawyers now.