San Bernardino Nursing Home Fall Injury Lawyer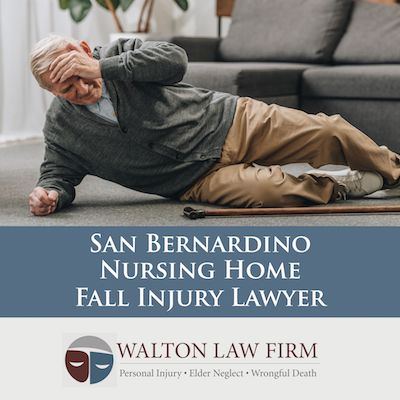 Nursing homes and assisted living facilities often receive residents who already have a variety of ailments and health conditions that compromise their wellbeing. This is why nursing facilities are required to craft a care plan that is designed towards each resident during intake and updated and altered as time goes on. These plans include lists of medication, assessment of mobility, mental health status, and a series of other measurements; yet a key assessment that is done for most residents, regardless of their health status, is that of fall risk.
The assessment for risk of falling might be different from facility to facility, yet most homes use some variation on the Morse Fall Scale, which is used to document the resident's overall fall risk, and then to determine a plan of how to best reduce that risk. Unfortunately, fall injuries are not uncommon even with these protocols in place, and these are the types of injury cases that personal injury and nursing home injury attorneys see quite often. In these cases, San Bernardino nursing home fall injury lawyers typically find that assessments are either missing from the intake documents, or that they're disregarded in some capacity by the facility and its staff, which often leads to an otherwise preventable fall.
For example, a facility in San Bernardino County recently received an A Citation for a series of failures that ultimately led to a resident's death, yet the main failure that occurred was a fall that was not only preventable but was subsequently not addressed in a timely enough manner.
Rialto Post Acute Center in San Bernardino took in a resident who had a history of heart failure, acute respiratory failure, diabetes, Alzheimer's disease, and a long list of other ailments. This indicates that the resident had an intake done to some extent, and the assumption here is that he is definitely, at some higher risk of falling and sustaining an injury, due to his complications.
It is reported that that patient was leaning a bit forward in his wheelchair and fell onto the floor, hitting his forehead and sustaining a serious injury. The nurses at the facility made notes to monitor the resident for COC (change of condition). No physician was notified of the fall until nearly 30 hours after the incident occurred, when the physician ordered that the resident be transferred to a hospital ASAP. The resident was then not transferred to a hospital as they were waiting for "beds to become available" and was found unresponsive the next day. After the physician was notified again of the patient's change of condition, he was immediately taken to a hospital and pronounced dead that day. This clear delay in action following the residents fall led to a death that may have been otherwise preventable, and led to litigation by a San Bernardino nursing home fall injury attorney.
Unfortunately, this type of occurrence is not uncommon in nursing homes, and attorneys throughout the US see this type of unnecessary fall injury occur in facilities time and time again. Somewhere around 1,800 elderly patients die a year as a result of nursing home falls in the US, a striking statistic that highlights just how important it is to prevent nursing home and assisted living falls, and to ensure that proper care is taken with patients after a fall is sustained.
Call or Contact Southern California Nursing Home Law Group Today
Have you suspected that a loved one has been the victim of a nursing home fall injury in the San Bernardino area? If so, call the office or contact us today at the Southern California Nursing Home Law Group to schedule a free case evaluation with one of our experienced San Bernardino nursing home fall injury lawyers now.